Our story began in 1960, in Sestri Levante, a seaside town on the Italian Riveria. With little more than just a passion to create great gelato and the desire to share it with the world, Luigi Panero planted the seed that has grown into the brand, "Amore".
Luigi dedicated the greater part of his life to innovating and improving his craft. His 45 years of commitment to authenticity was recognized in 2006 when the prestigious honour of, "Gelatiere of the Year", was conferred upon him by the Association of Italian Gelatiere.   
It is our privilege to build on Luigi's values and traditional approach to making gelato. We take great pride in upholding these standards with each and every batch of gelato that is served.
We do it for the same reason Luigi did it… the sheer love for it!
Our Why
Delighting the customer with unparalleled quality products at a competitive price, we aspire to be an "affordable luxury" that elicits a sense of nostalgia, pursues innovation, promotes health consciousness & demonstrates social values.
Our Vision
To establish a values-based business that serves authentic Italian gelato with passion, attention to detail and uncompromising principles while maintaining our commitment to our customers, the environment and the community that supports us.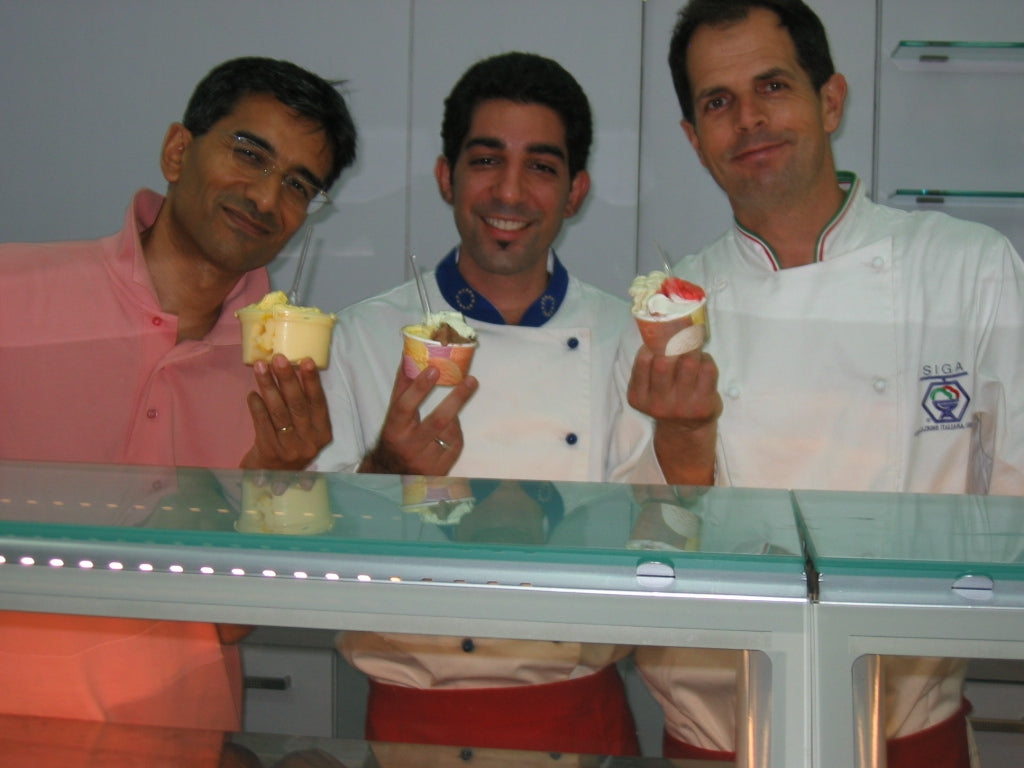 Our Founders
As Co-Founders, we aspire to achieve more than profits. When we joined hands for the first time, we were committed to creating a business that we would be proud of. We truly believe that we can help make the world a brighter place; with more smiles and a lot more love.
Awards
AMORE has won 3 special awards for innovation and dedication to quality at SIGEP, the world's largest International Gelato Competition held annually in Italy (both in 2007 and in 2008). We have been awarded for:
1. The Best Flavour (Coffee)
2. Most Innovative Flavours (Passaggio in India - 2008 & Masala Latte- 2009).
Testimonials









Yummy, love it. I had the sorbet. It was amazing. I really hope aap ye Italian pyaar, logo k ghar ghar tak pohoncha payein.

Vineeta Singh
This is so good huh, very good!

Anupam Mittal
It tastes amazing!

have sent the parcel properly with ice bag so it remain cold. 

amazing taste!!! totally in love with the blueberry cheesecake :)

Eesha
Recently tried Amore Icecreams totally in love with them such a amazing taste they have I tried out their many flavours all of those are mentioned in the photos do check out.

I loved the Belgian chocolate flavoured gelato as soon as I put it in my mouth it starts to melt and a nice chocolate taste blows my mind.

They serves the most quality Ice-creams ever truly worth for money. Also I got my parcel with dry ice and quick delivery. Perfect packaging no mess at all.

Highly recommend must try out.❤️

Akshata Manjrekar
way better than the normal ice cream absolutely delicious💣

Yash Nahar
Around the world, no ice cream comes close to the Coco Mocha Fudge - it's bitter and sweet and the texture is chewy but also smooth, and best of all it's vegan. The other flavors are terrific too - specially the dark chocolate (if you're on a diet or have a blood sugar issue) and the peanut butter swirl (also vegan and so so delicious)!

Radhika Choudhry
Excellent packing and awesome taste😍😍

Saurabh Kolapate